Healthy Weight Gain in Pregnancy
Weight gain during pregnancy is normal as your baby grows and the placenta and additional blood help to feed your growing baby. Keeping an eye on your weight increase during your pregnancy is important for your health and the health of your baby.  Too much or too little weight gain during pregnancy can put you or your baby at risk.
Too little: early labour; smaller baby; problems breastfeeding
Too much: larger baby; baby has very low blood glucose at birth; risk of overweight or obese as a child and metabolic syndrome as an adult
You are at risk of: Pre-eclampsia; Gestational diabetes; blood clots in legs; greater risk of caesarean and birth complications; breastfeeding problems.
The table below outlines the recommended weight gain during pregnancy based on your pre-pregnancy weight relevant to your height – Body Mass Index (BMI). To work out your BMI use this  calculator  on the Health Direct website.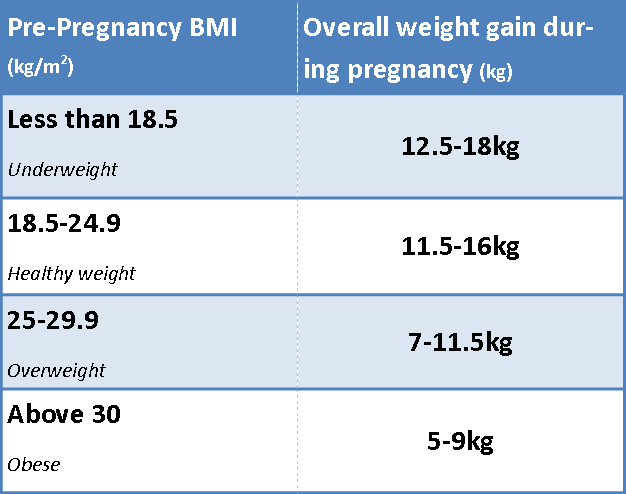 Healthy eating and regular exercise throughout your pregnancy can help manage weight gain during your pregnancy. For more information on weight gain in pregnancy see the  Pregnancy Birth and Baby website. 

[Source: Get Healthy In Pregnancy; Queensland Health; Raising Children Network]