Organised sport is not only a way for your children to be physically active, it's also a great chance for them to learn teamwork, gain confidence and respect. There have been a number of studies that have linked participation in sport with improved performance at school. Some sports are modified to help suit younger age groups. They focus on skills development and participation rather than scoring or winning and losing.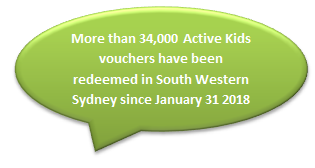 To help encourage participation in sports the NSW government is offering Active Kids Vouchers to help meet some of the financial costs. All children enrolled in school are eligible for two vouchers valued up to $100 per calendar year.
To apply for a voucher go to the Service NSW website and click on "Apply for a voucher" under Active Kids page. You will need to create a MyService NSW account.
You can use the vouchers with registered Active Kids providers – see the website for a list of eligible providers. Simply enter the voucher number during the online registration process or take a printed copy when registering in person.
You can also search for sports club near you on the NSW office of sport website. If your preferred club is not registered with Active Kids you could encourage them to check out the Active Kids website.
[Source: Healthy Kids; NSW Office of Sport]