Local Activities for Kids
There are a range of free programs to help kids in south west Sydney be more active. Check out some of the options below.  
Go4Fun
Go4Fun is a free 10-week healthy lifestyle program for NSW kids aged 7-13, who are above a healthy weight. This program supports lifestyle changes at home that will benefit the whole family.  
More information including dates and locations, can be found here. http://go4fun.com.au/ 
Active Kids Vouchers 
Every NSW school-enrolled child between the ages of 4.5 and 18 years can receive two $100 Active Kids vouchers each year. These vouchers can be used to pay for registration, participation or membership costs for sport, fitness and active recreation activities. There are more than 11,000 providers across the state where the vouchers can be used. 
More information including how to apply for your vouchers can be found here. 
Information is also available in: Arabic, Chinese, Dari, English, Hindi, Spanish, Vietnamese 
If you need help, visit any Service NSW Centre, ask at your local library, child's school or chosen activity provider.  
If you are an activity provider and would like help to become registered, contact us here. 
Finish with the right stuff 
Finish with the Right Stuff is a program to encourage children who participate in sport to eat healthy and drink water after sport. Ask your sporting group if they are involved and how they can promote healthy food in their canteen.  
Check out the website for more information. 
Active Travel
'Active travel' is when you use your own energy to get from one place to another. This might be by walking or cycling, scooter or skateboard. Even using public transport can make you more active, because you have to walk to and from the bus stop or train station. Many schools, parks, train stations and other public places are making it easier for active travel by installing bike racks and improving walking paths.
Talk to your school and see what they may be doing to support active travel.  
For more information visit the Healthy Eating Active Living website. 
For information on road safety, visit Safety Town.  
Skate Parks 
Skate parks are another great way of getting active with friends. There are plenty of places to practice across south west Sydney. Have a look at the links below to find one close to you: 
Kirkham Skate Park, Elderslie 
Leumeah Skate Park, Leumeah 

Macquarie Fields Skate Park, Macquarie Fields 

St Helens Park Skate Park, St Helens Park 
Carysfield Park, Bass Hill  

Amour Park, Revesby  

Roberts Park, Greenacre  

Goondah Reserve, Villawood  

Riverwood Skate Park, Riverwood 
Bonnyrigg Town Centre Park, Edensor Park 

Emerson Park, Wetherill Park 
Carnes Hill Skate Park, Carnes Hill 
Kelso Skate Park, Moorebank 

Powell Park, Cartwright 
Loseby Park, Bowral 

Community Oval, Moss Vale 

Yerrinbool Oval, Yerrinbool 
Related pages 
Active Kids Vouchers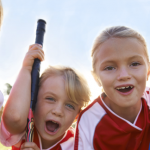 Active Kids Vouchers offer $100 for each eligible child to help them participate in sport...