Go4Fun
Go4Fun is a free 10-week healthy lifestyle program for NSW kids aged 7-13, who are above a healthy weight. The program focuses on eating habits, fitness and confidence. Programs run during school terms and include sessions for both you and your child, to support lifestyle changes at home that will benefit the whole family.
Go4fun sessions run in a variety of locations in SWS, including:
Bankstown PCYC
Fairfield Leisure Centre
Liverpool West Public School
Macquarie Fields Leisure Centre
Eagle Vale Central
Mount Annan Leisure Centre
Moss Vale Aquatic Centre
Parents can self-refer via:
If you're not sure if your child is a healthy weight, you can use the Go4Fun Children's weight status calculator.  Want to know what others think?  Check out these Go4Fun case studies.
Other Local Programs
If your child is under 7 years of age and you have concerns about their weight, talk to your GP about a referral to the community dietitian. Other active programs you can look out for include:
Active Kids
Your child may be eligible for a $100 voucher to participate in the many local sporting programs available in the area. Check out the Active Kids website for more information and to search for clubs near you. Find help with your application here.  
Finish with the right stuff
Finish with the Right Stuff is a program to encourage children who participate in sport to eat healthy and drink water after sport. Ask your sporting group if they are involved and how they can promote healthy food in their canteen.
Active Travel
'Active travel' is when you use your own energy to get from one place to another. This might be by walking or cycling, scooter or skateboard. Even using public transport can make you more active, because you have to walk to and from the bus stop or train station. Many schools, parks, train stations and other public places are making it easier for active travel by installing bike racks and improving walking paths.
Talk to your school and see what they may be doing to support active transport. The NSW Active Travel Charter has identified many benefits to active travel. For more information see the Healthy Kids website.
For more information on road safety see the Kids and Traffic website. 
[Source: Go4Fun; Healthy Kids; NSW Transport]
Active Kids Vouchers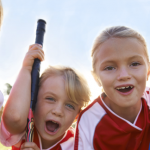 Active Kids Vouchers offer $100 for each eligible child to help them participate in sport...