Staying active can improve your quality of life. It also lowers the risk of unhealthy weight gain and developing chronic diseases. Physical activity ensures you have a strong, healthy body for years to come. 
Regular physical activity can help to: 
Improve energy levels and fitness 

Manage stress 
Reduce depression and anxiety 

Strengthen self-esteem 

Improve mood and boost mental alertness 
It can be difficult to know where to start. A lot of girls may experience barriers to being active like fear of being judged, or struggling to find time between school, work and seeing friends. Being active is a great way to unwind and can easily be added into your day to day life. 
Tips for starting out:  
Find something you enjoy 
Get active with friends who can help keep you motivated 
Try joining a team to meet new people and make friends, you can take a friend with you 
Being active is more than organised sports. Try different ways of being active like bike riding, dancing, skateboarding, or going for a hike 
Slowly increase the amount of activity you are doing  
Learning new skills may seem like a challenge but it can be rewarding and fun! 
Campaigns  
Girls Make Your Move is a campaign by the Australian government to encourage and support young women aged 12-19 to be more active. If you are stuck for ideas, visit Girls Make Your Move to find an activity near you.  
Her Sport Her Way is a strategy by the NSW Office of Sport. It aims to increase female participation in sport as players, leaders and coaches. Increased participation will lead to greater visibility of women's sport, more opportunities in leadership and improved facilities. To keep updated on the strategy and opportunities to be more active, visit Women In Sport. 
Looking for some more motivation? Check out some inspirational stories from the Sporty Sistas here. 
[Source: Girls Make a Move, Vic Health; DOH Women's Health Strategy] 
Related pages 
Local programs  
Active Hobbies 
Wellbeing 
Local Activities for Kids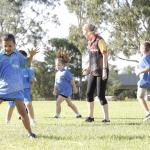 There are local activities and programs available to help your kids stay active