Eating away from home more often can increase your chances of putting on weight, because you can't control what is added to food, how it is cooked, or portion sizes. Teenagers will often choose food outlets that don't have a lot of healthy options because they tend to be cheap, easy and popular.
If your choices are limited, there are simple things you can do to make healthier choices when eating out:
Choose wholemeal sandwiches with lean meat and salad.
Choose Grilled meats rather than battered or fried, e.g. fish.
Say "NO" to chips and other unhealthy sides, like garlic bread.
Choose smaller portions, like mini burgers, or share larger portions.
Avoid meal deals and upsizing.
Limit the number and amount of high-fat extras, such as mayonnaise.
Request adjustments to the menu, e.g. ask for a particular item without the creamy sauce.
Choose meals with vegetables or ask for added vegetables.
Find a balance, save 'sometimes' foods like chips, chocolates, lollies and cakes for special occasions only.
More tips for choosing healthier takeaway
BYO and Save
Single serve drinks and snacks can be expensive. BYO drink bottle and save money on drinks by refilling at a local water station. You can also save money by keeping easy snacks such as fruit or mixed nuts on hand.
Not only are these snacks costing you money, you're also getting extra fat, sugar and salt from takeaway foods. Work out what you're really getting and how much you're paying with this Junk Food Calculator 
 [Source: Raising Children Network; DAA]
Sugary Drinks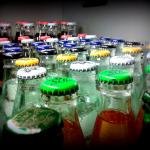 Sugary drinks have been shown to increase the risk of unhealthy weight gain.