Leaping into healthy habits
It can be a challenge to encourage children to eat more fruit and vegetables, reduce their screen time and be more active but staff at Tayoor Al Jannah Community College, at Yagoona, are using some fun and colourful ways to teach these healthy habits through Munch & Move.
Healthy eating
Staff recently hosted a Munch & Move art and craft vegetable painting experience to help children to learn about healthy eating and choosing healthier snacks.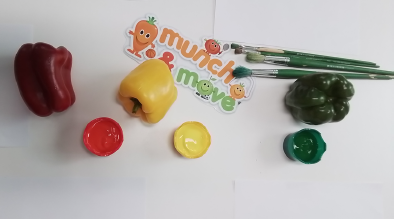 Using red, yellow and green capsicums, the children used their senses to describe the vegetables, their texture and feel and what they think about eating them. They then painted colourful artworks of the capsicums to take home.
Educators were impressed with how the children used their imagination, creativity and sensory and fine motor skills during the painting experience.
Jumping to learn the Fundamental Movement Skills (FMS)
The fun continued in the afternoon with the children enjoying an outdoor jumping adventure to learn the FMS.
Staff said the FMS lanyards helped them to model the jumping steps and they also referred to Fun Moves videos for correct demonstration.
Staff said the children were becoming more enthusiastic about participating in FMS with confidence and they were willing to try a new FMS. They also encourage children to drink more water after a FMS session.
Munch & Move has become the college's favourite activity and staff also share the posters and health messages with families.
Munch & Move offers training and resources to educators working in NSW early childhood education and care services.

If you are an educator, you can email our team for resources and support at: SWSLHD-MunchandMove@health.nsw.gov.au